Save money. Conserve energy.
EcoMAXX™ Control Panels
Intrinsically Safe Control Panels with status lights monitor dust levels and provide system shut-down capability for one or more No Return Explosion Isolation Valves. All models are listed UL intrinsically safe and NFPA 69 compliant.

EcoBOSS™ Power Box Ultimate Control Panels
Power Box Ultimate Control Panels provide the ultimate in energy efficiency and system automation for all dust collection applications. Multiple models and options are available dependent on application requirements and system complexity.

EcoMAXX™ Fire Control Systems
Fire Control Systems provide double security protection for up to 5 duct zones standard. Multiple duct zones installed direct to the dust collector are a key design feature for all EcoBOSS™ Energy Management Systems.
Overview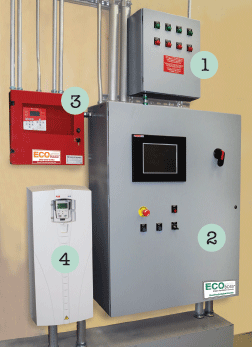 EcoBOSS™ Variable Speed Drives
Variable Speed Drives are available as a stand-alone option or can be installed inside most EcoBOSS™ Control Panels. EB SVD Variable Speed Drives are an essential component for any EcoBOSS™ Energy Management System to
modulate fan speed based on real time demand and system conditions.
SEND INQUIRY
Product Literature
Call 800.282.3878 for further product information
Download Brochure
About Dust Collector Services
From Routine Inspections to Regular Maintenance, Baghouse Services are Our Business!
With more than 30 years' experience, our personalized service includes baghouse inspection reports that detail current conditions in each unit and locate potential problems before they elevate to emergency status. Acting preventively, rather than reactively, your overall maintenance costs remain low. We're good at troubleshooting. It's what we do best. Our highly experienced staff evaluates and solves problems fast, putting you back in service with minimal downtime. From routine inspections to a new Baghouse, we offer a complete range of Services. Our field engineering experts can update your equipment to the latest technology available, improving performance and reducing the cost of operating your Baghouse.
Call Today 800-282-3878 so that we can help you with you next dust collection project, service or maintenance on all types of dust, mist and fume collection equipment.
---
Certifications
Let Dust Collector Services helps with all your OSHA and NFPA requirements.