DOWNFLO OVAL DUST COLLECTORS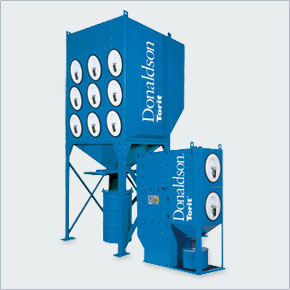 Downflo Oval Dust Collectors
A family of over-achievers
The Donaldson Torit Downflo® Oval cartridge dust and fume collector now sets the standard for industrial dust collection – by providing a 25% increase in airflow capacity, improved airflow path, and a 29% increase in pulse cleaning pressure. These compact, high-efficiency units use high efficiency oval-shaped cartridge filters, especially well-suited for filtering the sub-micron dust. There are 26 Downflo Oval cartridge dust collectors models including 3 self-contained, "plug and play" units: DFO 1-1, DFO 2-2, and DFO 3-3.
The high performance Downflo® Oval (DFO) family of over-achieving dust collectors provides up to 25 percent more filtration capacity than other same-sized cartridge collectors. Powered by proprietary Ultra-Web® nanofiber filtration technology, DFO delivers cleaner air, up to two times longer filter life, and greater cost savings.
The DFO advantage is found in the collector's proprietary design and components. The combination of a new cabinet design that greatly lowers cabinet velocities, proprietary ExtraLife™ cleaning technology, and proven Ultra-Web nanofiber filters allows more airflow through the collector without increasing the size of the footprint or damaging the filters.
A smaller collector helps lower the initial purchase price, reduces filter replacement costs and opens up valuable manufacturing floor space.​
SEND INQUIRY
Overview
OUTPERFORMS ALL OTHER COLLECTORS

DFO collectors offer some strong benefits that distinguish them from all other collectors available in the market today.

Easy to use

Quick-release handles provide easy cover removal and faster filter access.

Compact

Smaller footprints for applications that require maximum cleaning efficiency in even smaller spaces.

Powerful

DFO collectors provide 25 percent more capacity than same-sized dust collectors.

Cost Effective

The proprietary ExtraLife Filter Cleaning System averages up to 30 percent increase in pulse cleaning energy for unmatched cleaning ability.

Innovative

Unique oval-shaped Ultra-Web cartridge filters provide the longest filter life and highest filtration efficiency—which lowers cost.

PROPRIETARY TECHNOLOGY THAT PERFORMS

The remarkable story of DFO begins with the oval cartridge and Ultra-Web Media Technology. Proven and proprietary Ultra-Web technology delivers longer filter life, cleaner air and greater cost savings than other types of cartridge filter media. Made with an electrospinning process that produces a very fine, continuous fiber of 0.2-0.3 micron in diameter, Ultra-Web nanofibers form a permanent web-like net with very fine interfiber spaces that trap dust on the surface of the media.
Product Literature
Choose below to download
About Dust Collector Services
From Routine Inspections to Regular Maintenance, Baghouse Services are Our Business!
With more than 30 years' experience, our personalized service includes baghouse inspection reports that detail current conditions in each unit and locate potential problems before they elevate to emergency status. Acting preventively, rather than reactively, your overall maintenance costs remain low. We're good at troubleshooting. It's what we do best. Our highly experienced staff evaluates and solves problems fast, putting you back in service with minimal downtime. From routine inspections to a new Baghouse, we offer a complete range of Services. Our field engineering experts can update your equipment to the latest technology available, improving performance and reducing the cost of operating your Baghouse.
Call Today 800-282-3878 so that we can help you with you next dust collection project, service or maintenance on all types of dust, mist and fume collection equipment.
---
Certifications
Let Dust Collector Services helps with all your OSHA and NFPA requirements.