TORIT POWERCORE CP SERIES DUST COLLECTORS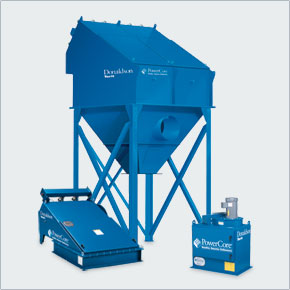 Torit PowerCore CP Series Dust Collectors
SMALLER. SMARTER.
Torit® PowerCore® CP Series collectors with PowerCore filter packs are changing the way we collect dust and they are available only from Donaldson® Torit®. PowerCore technology has proven itself in other industries for nearly 10 years and is ready to make the baghouse collector obsolete.​​​​​​​​​​​​​​​​​​
It's smart to switch to a Torit PowerCore CP Series dust collector. It uses significantly smaller and more powerful filter packs than baghouses, provides better dust collection, requires less steel, saves transportation costs, and lowers operational costs.


SEND INQUIRY
Overview
The key is PowerCore filter packs. Combining Donaldson Torit's proven and proprietary Ultra-Web® surface-loading technology with a rugged fluted-media configuration, PowerCore filter packs last longer, clean easier, lower emissions, and eliminate bridging.ToritPowerCoreCP50smaller.jpg And just how small is Torit PowerCore? A stand-alone Torit PowerCore CPC Series dust collector is 50% smaller than a traditional baghouse and a CPV bin vent collector is up to 70% smaller than other bag bin systems. With Torit PowerCore, you can save space, install at point of use, eliminate duct work and replace a large central dust collector. Tired of changing big, dirty filter bags? One 7" PowerCore filter pack replaces six 8' standard fabric filter bags. Removed with one hand and no tools in minutes—not hours or days—PowerCore filter packs save time, maintenance and money.

Stand-Alone

Torit PowerCore CPC stand-alone dust collectors, available in a range of airflows from 700 to 33,000 cfm, use less floor space and fit into tight spaces.

Bin Vent

Torit PowerCore CPV bin vent systems, with airflows of 450 to 8,200 cfm, deliver more powerful technology in a much smaller package. These bin vents can be installed at point-of-use on silos, conveyor transfer points, conveyor discharges, blenders and mixers.
Product Literature
Choose below to download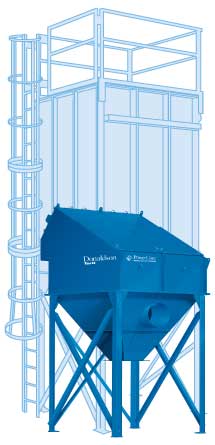 About Dust Collector Services
From Routine Inspections to Regular Maintenance, Baghouse Services are Our Business!
With more than 30 years' experience, our personalized service includes baghouse inspection reports that detail current conditions in each unit and locate potential problems before they elevate to emergency status. Acting preventively, rather than reactively, your overall maintenance costs remain low. We're good at troubleshooting. It's what we do best. Our highly experienced staff evaluates and solves problems fast, putting you back in service with minimal downtime. From routine inspections to a new Baghouse, we offer a complete range of Services. Our field engineering experts can update your equipment to the latest technology available, improving performance and reducing the cost of operating your Baghouse.
Call Today 800-282-3878 so that we can help you with you next dust collection project, service or maintenance on all types of dust, mist and fume collection equipment.
---
Certifications
Let Dust Collector Services helps with all your OSHA and NFPA requirements.