EXPLOSION PROTECTION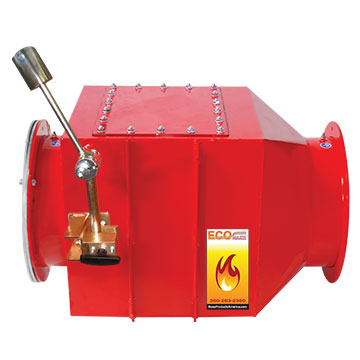 No Return Valve - Model #EM-NRV
The Installation of an Explosion Isolation Device on all suction side ducts that transport material with a Kst value above zero is a NFPA requirement.
Installing a SAFETY SMART EcoMAXX™ No Return Valve (EM-NRV) will protect workers and facilities from the damaging effect of a baghouse or filter explosion.
EcoMAXX™ No Return Valves are an integral component that is recommended for use with EcoBoss™ Energy Management Systems, EcoMAXX™ Fire Break Shutters, and EcoMAXX™ Fire Suppression Systems.

Standard Features:

Heavy Duty Welded Steel Construction
Flanged Inlet and Outlet with Co-Flanges
Inspection/Access Door
Grounding Lug
Locking Mechanism
ATEX Certified
SEND INQUIRY
Overview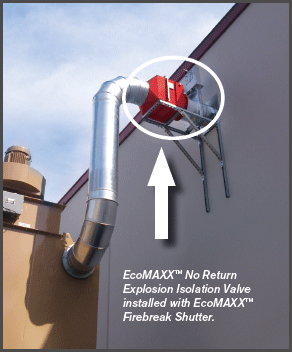 ECOMAXX™ FIRE & EXPLOSION PROTECTION COMPONENTS…the integrated solution for NFPA compliance
BOSS PRODUCTS engineers have decades of experience in the design and installation of multi-application Industrial Dust Collection & Ventilation Systems. Today's NFPA regulatory guidelines governing Fire & Explosion Protection installations are more specific and well defined than ever before.
BOSS PRODUCTS has the SAFETY SMART package solution and is your single source for Spark Detection & Extinguishment, Explosion Isolation with Suppression, Explosion Isolation, Explosion Venting, High Speed Abort and a variety of system monitoring sensors that combine to provide a truly Integrated Solution for all your NFPA compliance requirements. Use EcoBOSS™ advanced technology energy management controls to optimize seamless systems function for all your EcoMAXX™ Fire & Explosion Protection components.
High Speed Abort Gate EM-HSAG 8"-58"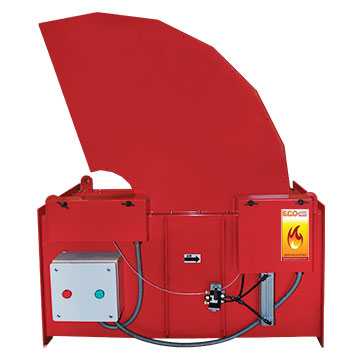 EcoMAXX™ High Speed Abort Gates are engineered with Triple Security. Activation is achieved by over pressure without electric signal, activation by electronic spark panel and/or activation signaled by a rapid temperature rise in the clean air duct plenum. A NEW INDUSTRY STANDARD! DESIGNED SAFETY SMART EcoMAXX™ High Speed Abort Gates are engineered with TRIPLE SECURITY. Activation by over pressure & without electrical signal Activation by electronic spark detection signal Activation by rapid temperature increase in clean air duct plenum An EcoMAXX™ High Speed Abort Gate is a NFPA required safety device that is necessary when potentially hazardous filtered air is returned to a building or workspace. The EcoMAXX™ HSAG is designed for installation in bag house & dust collector return air systems to automatically vent harmful gases to atmosphere, should a fire and/or explosion occur. EcoMAXX™ High Speed Abort Gates are an integral component for dust collection systems & are recommended for use with EcoBOSS™ Energy Management Systems, EcoMAXX™ Explosion Isolation Valves, EcoMAXX™ Fire Break Shutters & EcoMAXX™
FireBreak Shutters
Model #EM-FBS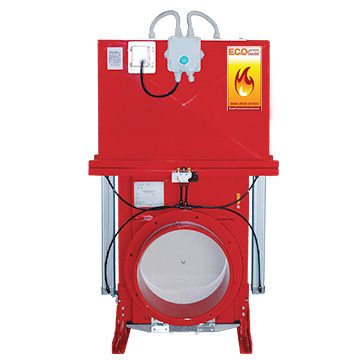 EcoMAXX™ FIREBREAK SHUTTERS are engineered for isolation of flammable hazards in vessel and ducted systems!
Available in four different FBS models.
EM-FBS00G    Gravity closure with manual reset
EM-FBS00F    Gravity closure with manual reset. Fusible link activation.
EM-FBS00M    Gravity closure using magnetic release with a pneumatic reset.
EM-FBS00P & EM-FBS00PH   Pneumatic closure & reset, designed for vertical & horizontal positions
Standard Features
Thermal heat sensing probe
Microswitch for system shut down
Automatic dry chemical suppression systems
Fire control panel
8" to 48" in diameter
Epoxy powder coated safety red finish
ATEX certified
Spark Detection and Extinguishing Systems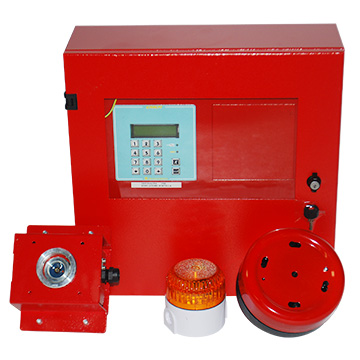 EcoMAXX™ Spark Detection & Extinguishing Systems combined with an EcoMAXX™ FireBreak Shutter offer the ultimate protection against dust collector fire and explosion. The standard EcoMAXX™ Fire Control Panel is designed to operate up to (5) five individual duct zones that include the installation of additional detectors and FireBreak Shutter.
Explosion Vents
Model #EM-XV
SAFETY SMART – EcoMAXX™ EXPLOSION RELIEF PANELS
A Solution to Avoid Personal Injury & Damage to Property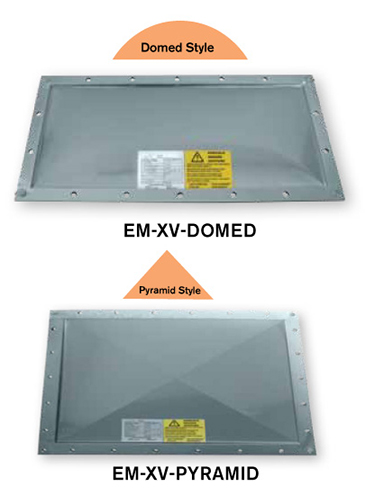 EcoMAXX™ Explosion Relief Vents are ATEX Certified and available in domed & pyramid styles. All panels are laser cut using AISI 316L stainless steel and include a zinc plated external flange with standard AERSTOP NIZ PTE gasket. Alternate PTFE and SILICONCELL gasket are available. An optional internal grill provides support for applications having negative pressures to -24" WG.
Standard EcoMAXX™ Explosion Vents are tested (see price for exceptions) to perform at a breaking pressure of 1.45 PSIG (0.1 bar), Kst Max = 900 bar m/sec, Kg Max = 550 bar m/sec and Pmax = 9 bar, Pred Max = 2.0 bar. Every manufactured lot goes through destructive testing to insure quality and ATEX Performance Specification.
EcoMAXX™ Explosion Relief Vents are a non-reusable safety device that is designed to relieve explosive pressure in a dust collector or vessel without fragmentation. An optional ATEX Certified Signal Sensor is available that will initiate shut down and/or deactivate additional devices, should an event occur.
The size and quantity for selection of explosion relief panels is specifically dependent on the volume of the vessel and the explosive (Kst) value of the material being collected. It is MOST IMPORTANT that choices be made in compliance with the current NFPA 68 Standard on Explosion Protection by Deflagration Venting as well as best industry practice.
EcoMAXX™ Explosion Relief Vents are available for special requirements. Boss Products will provide pricing for non-standard applications along with sizing recommendations.
Product Literature
Choose below to download
About Dust Collector Services
From Routine Inspections to Regular Maintenance, Baghouse Services are Our Business!
With more than 30 years' experience, our personalized service includes baghouse inspection reports that detail current conditions in each unit and locate potential problems before they elevate to emergency status. Acting preventively, rather than reactively, your overall maintenance costs remain low. We're good at troubleshooting. It's what we do best. Our highly experienced staff evaluates and solves problems fast, putting you back in service with minimal downtime. From routine inspections to a new Baghouse, we offer a complete range of Services. Our field engineering experts can update your equipment to the latest technology available, improving performance and reducing the cost of operating your Baghouse.
Call Today 800-282-3878 so that we can help you with you next dust collection project, service or maintenance on all types of dust, mist and fume collection equipment.
---
Certifications
Let Dust Collector Services helps with all your OSHA and NFPA requirements.