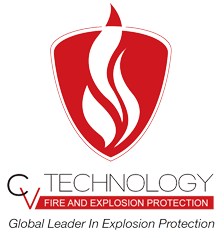 EXPLOSION PROTECTION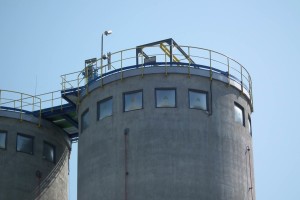 EXPLOSION PROTECTION
CV Technology specializes in complete explosion protection solutions for the prevention and mitigation of explosion hazards that result from process powders and dry bulk materials. Headquartered in Jupiter, Florida, CV Technology manufacturers various explosion mitigation products including explosion vents, isolation valves, flameless vents, and chemical suppression equipment.
SEND INQUIRY
Overview
Explosion Venting

Explosion venting offers a passive and economical means of explosion mitigation by releasing at designed pressures to exhaust the flame and relieve the pressure associated with a dust explosion. Flameless explosion vents provide a safe means of explosion venting indoors or in occupied areas where flame cannot be exhausted.

Explosion Suppression

Chemical suppression systems are designed to provide an active method to protect process equipment handling combustible dusts.  Advanced pressure detectors, optical sensors, and controls provide superior suppression performance.

Explosion Isolation

In many industrial systems it is not enough to only protect the vessels where the dust explosion is initiated as propagation of the flame can occur down pipes or ductwork.  CV Technology offers a variety of different explosion isolation valve systems and chemical isolators.
Product Literature
Call 800.282.3878 for further product information
About Dust Collector Services
From Routine Inspections to Regular Maintenance, Baghouse Services are Our Business!
With more than 30 years' experience, our personalized service includes baghouse inspection reports that detail current conditions in each unit and locate potential problems before they elevate to emergency status. Acting preventively, rather than reactively, your overall maintenance costs remain low. We're good at troubleshooting. It's what we do best. Our highly experienced staff evaluates and solves problems fast, putting you back in service with minimal downtime. From routine inspections to a new Baghouse, we offer a complete range of Services. Our field engineering experts can update your equipment to the latest technology available, improving performance and reducing the cost of operating your Baghouse.
Call Today 800-282-3878 so that we can help you with you next dust collection project, service or maintenance on all types of dust, mist and fume collection equipment.
---
Certifications
Let Dust Collector Services helps with all your OSHA and NFPA requirements.