Used Equipment from Dust Collector Services
USED DONALDSON TORIT VH 1-6 with Leg Extension
Also Includes 30 HP FAN and Silencer, 30 HP 460 Volt Control Panel w START/STOP and DELTA P PLUS
Includes MEYER AIRLOCK (Can be sold separately)
New Filters, Explosion Vent
Application: Abrasive Blasting, Metal Working, Mining, Grinding 
Approx. CFM is 7,500 – Fan Curves can be provided
$29,500 plus tax and Freight.  Installation is Not included.
Complete Turnkey Installation can be added and quoted based on site visit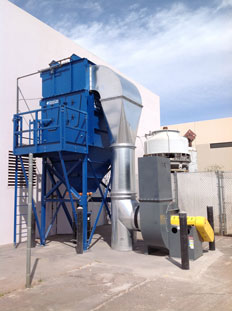 USED DONALDSON TORIT VH 2-12 with Leg Extension and Platform and Ladder
Includes USED Donaldson Torit FT Airlock (Can be sold separately), New Filters, Explosion Vent
Application: Abrasive Blasting, Metal Working, Mining, Grinding 
Approx. CFM is 15,000 based on Requirements and Fan size at Purchase. 
Base Price for VH only as listed above is $35,000 plus tax and freight
New Fan, Controls and Inlet ducting not included.
Top Mount Fan can be provided to conserve space as needed.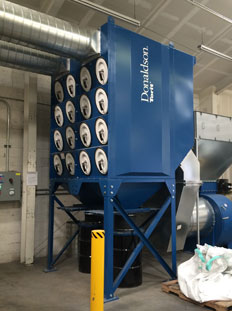 USED DONALDSON TORIT DFO 4-32
Includes 32 New Donaldson Torit Ultra Web and New Explosion Vents
Includes 40 HP Ground Mount New York Blower and Filter to Fan Ducting
Priced at $44,000 plus tax and freight. Installation can be provided at an additional cost.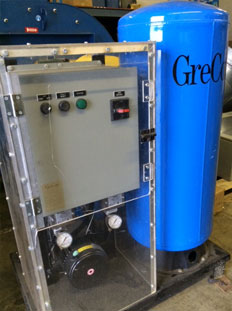 Grecon Spark Detection Equipment
Model BS-5001 w/ Sensor Group Control Console for Single Zone
w/ Grecon Water Pressure Booster Pump and Strobe Light
Priced at $5,200
About Dust Collector Services
From Routine Inspections to Regular Maintenance, Baghouse Services are Our Business!
With more than 30 years' experience, our personalized service includes baghouse inspection reports that detail current conditions in each unit and locate potential problems before they elevate to emergency status. Acting preventively, rather than reactively, your overall maintenance costs remain low. We're good at troubleshooting. It's what we do best. Our highly experienced staff evaluates and solves problems fast, putting you back in service with minimal downtime. From routine inspections to a new Baghouse, we offer a complete range of Services. Our field engineering experts can update your equipment to the latest technology available, improving performance and reducing the cost of operating your Baghouse.
Call Today 800-282-3878 so that we can help you with you next dust collection project, service or maintenance on all types of dust, mist and fume collection equipment.
---
Certifications
Let Dust Collector Services helps with all your OSHA and NFPA requirements.