IRD DUST COLLECTORS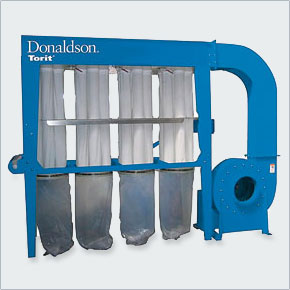 IRD Dust Collectors
The Donaldson Torit IRD dust collector is designed to use a downflow air pattern and gravity to clean dust trapped on the inner surface of the filter bags and to force the dust into the disposal bags at the bottom of the collector. This unique design means that expensive compressed air is not needed in the operation of the IRD dust collector.
An easy and economical solution for a wide range of wood dust collection applications.
Complete dust collection package includes fan, fan motor, push-button fan starter, bag filters and clear plastic dust disposal bags.
Fan provides high vacuum pressure with low operating sound levels for cleaner workplaces and lower sound levels.
Down flow air pattern allows airflow and gravity to move filtered dust to collection receptacles for longer bag filter life and reduced pressure drop.
Adjustable airflow baffles equalize dust dispersion to all collection receptacles, which minimizes emptying cycles.
Cageless filters and tool-free filter replacement reduce maintenance time.
Filtered air returning to interior workspace reduces HVAC costs.
Dura-Life™ "Twice the Life" bag filters provide longer bag life, which reduces maintenance costs and lowers pressure drop.
Optional automatic shaker is available for better collector performance.
Fans with higher static pressure are available for more demanding applications.
SEND INQUIRY
Overview
Dust laden air is pushed into the dirty air plenum by a high volume, high pressure heavy duty material handling fan. The dusty air is evenly distributed down inside of the high flow polyester bags which capture the dust and allow clean air to pass back into the work environment. Dust captured inside the bag is carried down into the dust receptacles at the bottom of the collector via gravity and airflow. An optional automatic shaker is available for even better collector performance.
About Dust Collector Services
From Routine Inspections to Regular Maintenance, Baghouse Services are Our Business!
With more than 30 years' experience, our personalized service includes baghouse inspection reports that detail current conditions in each unit and locate potential problems before they elevate to emergency status. Acting preventively, rather than reactively, your overall maintenance costs remain low. We're good at troubleshooting. It's what we do best. Our highly experienced staff evaluates and solves problems fast, putting you back in service with minimal downtime. From routine inspections to a new Baghouse, we offer a complete range of Services. Our field engineering experts can update your equipment to the latest technology available, improving performance and reducing the cost of operating your Baghouse.
Call Today 800-282-3878 so that we can help you with you next dust collection project, service or maintenance on all types of dust, mist and fume collection equipment.
---
Certifications
Let Dust Collector Services helps with all your OSHA and NFPA requirements.