RF BAGHOUSE DUST COLLECTORS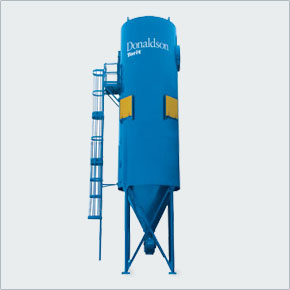 RF Baghouse Dust Collectors
Energy efficient, high volume dust collector
The rugged Donaldson® Torit® RF baghouse collector handles heavy dust loads and large volumes of air more effectively than any collector on the market.
The small footprint of the RF combines a cyclone precleaner and a baghouse into one unit. It features a powerful yet energy-efficient cleaning system, eliminating the need for compressed air to clean the bags. Combined with the revolutionary Dura-Life™ "Twice the Life" bag filters our new Ultra-Web SB pleated bag offering, the award-winning RF gets the job done while using much less energy than competitor collectors.
Dura-Life bag filters are engineered with a unique hydroentanglement process that uses water to blend the fibers. This process provides a more uniform material with smaller pores, better surface loading, and better cleaning. These advantages provide twice the operating life before bags need to be replaced due to high pressure drop. Longer life from Dura-Life bag filters lowers maintenance and operating costs and raises baghouse dust collection to a whole new level. 
The Ultra-Web SB Pleated Bags  option provides spunbond pleated filters with our Ultra-Web nanofiber web-like net to capture dust on the surface of the filter. These filters reduce emissions snf provide longer filter life which reduces maintenance and downtime costs.​
SEND INQUIRY
Overview
High-Body inlet option for abrasive dust
Single inlet, outlet and hopper reduces duct and hopper outlet costs
Even-Air™ Flow Straightener reduces wear on bag filters
60° conical hopper reduces dust build-up
Award winning Dura-Life "Twice the Life" bag filters
Ultra-Web SB Pleated Bag option
Requires less energy than comparable sized units
Oval shaped bags provide better snap for better bag cleaning
RF cleaning system requires no compressed air
Clean-air bag access for easier bag service
10-year warranty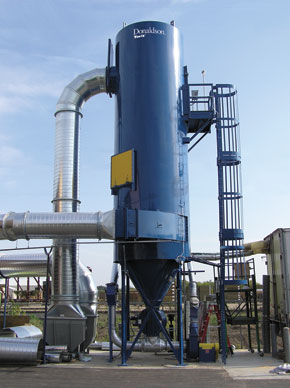 Product Literature
Choose below to download
About Dust Collector Services
From Routine Inspections to Regular Maintenance, Baghouse Services are Our Business!
With more than 30 years' experience, our personalized service includes baghouse inspection reports that detail current conditions in each unit and locate potential problems before they elevate to emergency status. Acting preventively, rather than reactively, your overall maintenance costs remain low. We're good at troubleshooting. It's what we do best. Our highly experienced staff evaluates and solves problems fast, putting you back in service with minimal downtime. From routine inspections to a new Baghouse, we offer a complete range of Services. Our field engineering experts can update your equipment to the latest technology available, improving performance and reducing the cost of operating your Baghouse.
Call Today 800-282-3878 so that we can help you with you next dust collection project, service or maintenance on all types of dust, mist and fume collection equipment.
---
Certifications
Let Dust Collector Services helps with all your OSHA and NFPA requirements.