UNIMASTER DUST COLLECTORS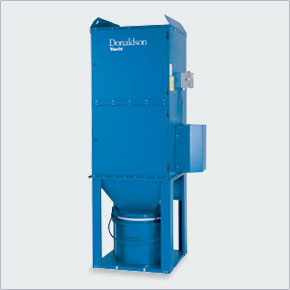 Unimaster Dust Collectors
Filtration Engineered for Performance
The Unimaster® dust collector from Donaldson® Torit® is designed to maximize dust collection and the life of collector components for years of extended service. In production for over 40 years with hundreds of thousands in use worldwide, the Unimaster collector's compact design and quiet operation is an industry success. Yet, Donaldson Torit is continually improving the Unimaster to ensure that it provides efficient, trouble-free service.
SEND INQUIRY
Overview
Perforated Inlet Deflector

Knocks down larger particles into the hopper reducing bag abrasion and increasing bag filter life.

Quick-Release Lever

Allows for easy removal and maintenance of bin.

Heavy-Duty Flexible Metal Coils

Inserted into filter bags keeps bags open to maximize airflow  and assist in knocking dust off during cleaning cycle.

Bag-Release Levers

Allow for easy removal of bags.
Product Literature
Choose below to download
About Dust Collector Services
From Routine Inspections to Regular Maintenance, Baghouse Services are Our Business!
With more than 30 years' experience, our personalized service includes baghouse inspection reports that detail current conditions in each unit and locate potential problems before they elevate to emergency status. Acting preventively, rather than reactively, your overall maintenance costs remain low. We're good at troubleshooting. It's what we do best. Our highly experienced staff evaluates and solves problems fast, putting you back in service with minimal downtime. From routine inspections to a new Baghouse, we offer a complete range of Services. Our field engineering experts can update your equipment to the latest technology available, improving performance and reducing the cost of operating your Baghouse.
Call Today 800-282-3878 so that we can help you with you next dust collection project, service or maintenance on all types of dust, mist and fume collection equipment.
---
Certifications
Let Dust Collector Services helps with all your OSHA and NFPA requirements.