WELD FUME COLLECTORS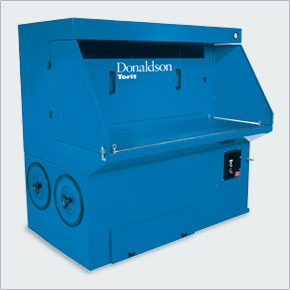 Weld Fume Collectors
In welding operations, workers are in a daily contact with harmful weld fume particulate because weld fume is made up of 30 to 80 percent submicron-sized particles. That means that most of these particles are respirable (enter the lungs), which makes it critical to have reliable, high performance fume collectors, weld fume extraction and weld smoke filters that collect the fume before it reaches your welder's breathing zone.​


SEND INQUIRY
Overview
Easy-Trunk Collector

Porta-Trunk Collector

Ambient (AT-3000) Fume Collection System

Trunk 2000 (T-2000) Source Fume Collector

Weld Bench

Weld Fume Extraction Arm
About Dust Collector Services
From Routine Inspections to Regular Maintenance, Baghouse Services are Our Business!
With more than 30 years' experience, our personalized service includes baghouse inspection reports that detail current conditions in each unit and locate potential problems before they elevate to emergency status. Acting preventively, rather than reactively, your overall maintenance costs remain low. We're good at troubleshooting. It's what we do best. Our highly experienced staff evaluates and solves problems fast, putting you back in service with minimal downtime. From routine inspections to a new Baghouse, we offer a complete range of Services. Our field engineering experts can update your equipment to the latest technology available, improving performance and reducing the cost of operating your Baghouse.
Call Today 800-282-3878 so that we can help you with you next dust collection project, service or maintenance on all types of dust, mist and fume collection equipment.
---
Certifications
Let Dust Collector Services helps with all your OSHA and NFPA requirements.