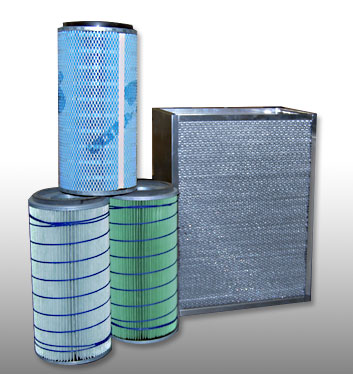 WIRE CAGES
MIST COLLECTOR
FILTER BAGS
FILTER CARTRIDGES
ENVELOPE STILE FILTERS
Dust Collector Services can supply cartridges from all shapes and sizes. This includes OVOL filters like the "TORIT Ultra WEB or "The FARR GOLDCONE"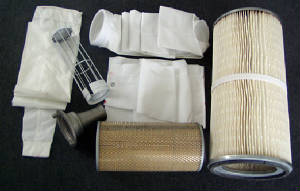 To receive price and available
on Filters... SEND INQUIRY
REPLACEMENT FILTERS, CLICK HERE.
For Cartridge Filters: DCS can custom make any cartridge to customer specification: AAF, Absolent, Aerocology, Airflow, Binks Spray Booths, CAC/Filter 1, Clemco, Cp Environmental, DCE, DISA, Donaldson(All Types), Dustex, FARR APC (All Types), Geoff, Hoffman, Micro Air (All Types), MAC, Nordson, Plymovent, RobeVent, Polaris, Scientific, Sly, Steelcraft, Torit, Trion, UAS/Dust Hog, Wheelabrator, Sulzer Metco and More...
For Baghouse Filters: DCS can custom make any Bag to customer specification: Norblo-Envirotech, Buhler-Miag, Carter-Day, Disa, Donaldson, DCE Volkes, Dustex, Dynamic Air, Farr APC Flex Kleen, Golefetto, Hoffman, ICM, Kice, Kleissler, LMC, MAC, Mikropul, Murphy Rogers, Norblo, Pangborn, Pneumafil, Reimelt, Ruemelin Mfg, Saunco, Scienticif, Sly, SteelCraft, Torit Donaldson, US Air, UAS, Western Pneumatics, Wheelabrator-Frye, Weidenmann and More...
Whether your company calls for filter bags, cages, cartridges, etc., we will get the right product for you. Dust Collector Services can provide any style of filter bags to meet your specific needs. Our experienced staff can review our capabilities with you, or you can send your specifications to us and we will gladly assist you in supplying your filter needs.

We have the capacity to provide thousands of filter bags. We offer a complete line of replacement and custom designed dust collector bags to fit most manufactures' filter bag housings. We can custom fabricate various types of attachments to work with your specific shaker mechanism, whether it's a loop, eyelet, grommet or some other device.
From Routine Inspections to Regular Maintenance, Baghouse Services are Our Business!
Troubleshooting
Inspections & Reporting
Maintenance Repairs
Filter Bag Changeouts
Engineering Evaluations
Master Service Contracts
Preventive Maintenance Plans
Leave your filter bag changeover to the experts! With more than 30 years' experience, our personalized service includes baghouse inspection reports that detail current conditions in each unit and locate potential problems before they elevate to emergency status. Acting preventively, rather than reactively, your overall maintenance costs remain low.
We're good at troubleshooting. It's what we do best. Our highly experienced staff evaluates and solves problems fast, putting you back in service with minimal downtime.
From routine inspections to a new Baghouse, we offer a complete range of Services. Our field engineering experts can update your equipment to the latest technology available, improving performance and reducing the cost of operating your dust collection equipment.