Spark Detection and Extinguishment & Machinery Protection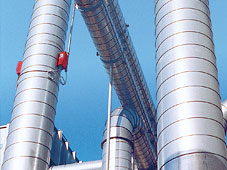 GreCon Spark Extinguishing Systems Avoid Fires and Explosions
GreCon spark extinguishing systems have been used for more than 30 years in many different industries. A spark extinguishing system consists of three components: detectors, control console and extinguishing system. Wherever organic or inorganic bulk materials are pneumatically or mechanically extracted or transported, the GreCon spark extinguishing system detects sparks and hot or glowing particles as well as other ignition sources in conveying facilities and eliminates them before they cause severe damage to filters, silos or other plant areas at risk. With a GreCon spark extinguishing system, the risk of fire or explosion in a monitored plant is substantially reduced.
SEND INQUIRY
Overview
Spark Extinguishing System BS 7

In many different industries where bulk materials are processed, fires and dust explosions occur again and again worldwide with far reaching consequences.

Interruptions of the production process that are caused this way lead to substantial follow up costs, quite apart from the direct damage to persons and property. With GreCon spark detection and extinguishment systems, the risks of fire can be prevented by a special technique: detection, as quick as a flash, and automatic extinguishment of the ignition energy before fire can arise.

Integrated Spark and Fire Extinguishing Systems

Anyone who is working in a planing mill knows the risk of fire that comes from planers or moulders. In the past, there were fires in many planing mills that stopped production partly for several weeks.

There are different causes that can be considered as ignition source, but very often, it is a piece of wood that has got jammed and is ignited by frictional heat. This risk gets higher with increasing production speed, which is, however, necessary to achieve a high productivity. Furthermore, there is a high level of automation so that personnel that keeps an eye on the production process decreases. Both factors - increasing planing speeds and a high level of automation to increase productivity - increase the potential risk of fire.

Integrated Press Extinguishment Systems

In the production processes of wood based panels, different inflammable materials, such as chips, fibres, glue, paraffin or even oil, represent danger sources that can only be controlled by additional physical protection measures, such as fine water spray systems.

A modern system for the detection of press fires has to be capable of detecting fires in the main danger areas early and reliably to immediately activate extinguishment systems there, but also for the entire press. The fires occurring during running production have to be fought directly in the place of detection. As a fire might spread quickly within the press, an automatic extinguishing process is to be preferred to a manual fire fighting facility. The GreCon press extinguishment offers both alternatives.
Product Literature
Call 800.282.3878 for further product information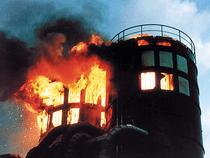 Download Brochure
About Dust Collector Services
From Routine Inspections to Regular Maintenance, Baghouse Services are Our Business!
With more than 30 years' experience, our personalized service includes baghouse inspection reports that detail current conditions in each unit and locate potential problems before they elevate to emergency status. Acting preventively, rather than reactively, your overall maintenance costs remain low. We're good at troubleshooting. It's what we do best. Our highly experienced staff evaluates and solves problems fast, putting you back in service with minimal downtime. From routine inspections to a new Baghouse, we offer a complete range of Services. Our field engineering experts can update your equipment to the latest technology available, improving performance and reducing the cost of operating your Baghouse.
Call Today 800-282-3878 so that we can help you with you next dust collection project, service or maintenance on all types of dust, mist and fume collection equipment.
---
Certifications
Let Dust Collector Services helps with all your OSHA and NFPA requirements.