MODULAR BAGHOUSE DUST COLLECTORS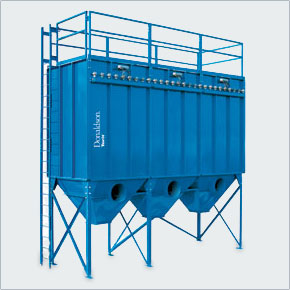 Modular Baghouse Dust Collectors
Compact, Modular Design​
The MB provides reliable service with easy maintenance. Computer designed inlets and deflector plates, coupled with maximized bag spacing, result in opt​imal airflow with minimal abrasion. Advanced valves, providing 50% more cleaning air, result in a more efficient operation. Over the life of the collector, no other baghouse can provide this much value.
The MB advantage is found in the breakthrough technology of our filter bags. Dura-Life filter bags and Ultra-Web™ pleated bag filters.   Dura-Life filter bags provide twice the life over standard 16 oz. polyester bags. Our pleated bag options with Ultra-Web SB, provide longer filter life and reduced emissions. Both options can lower the overall cost of operation of the collector. 
SEND INQUIRY
Overview
High body inlet models allow higher air-to-media ratios on lighter dusts
Square models help minimize ducting and accessory costs
Dura-Life "Twice the Life" Bag Filters
Ultra-Web SB Pleated Bag option
Clean air bag access for easier bag service
Welded design increases durability
Integral fan option reduces space requirements
Tool-free installation of bag filters and cages
10-year warranty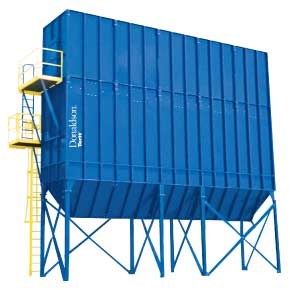 Product Literature
Choose below to download
About Dust Collector Services
From Routine Inspections to Regular Maintenance, Baghouse Services are Our Business!
With more than 30 years' experience, our personalized service includes baghouse inspection reports that detail current conditions in each unit and locate potential problems before they elevate to emergency status. Acting preventively, rather than reactively, your overall maintenance costs remain low. We're good at troubleshooting. It's what we do best. Our highly experienced staff evaluates and solves problems fast, putting you back in service with minimal downtime. From routine inspections to a new Baghouse, we offer a complete range of Services. Our field engineering experts can update your equipment to the latest technology available, improving performance and reducing the cost of operating your Baghouse.
Call Today 800-282-3878 so that we can help you with you next dust collection project, service or maintenance on all types of dust, mist and fume collection equipment.
---
Certifications
Let Dust Collector Services helps with all your OSHA and NFPA requirements.